Original research

Open Access
Loving-kindness meditation: a tool to improve healthcare provider compassion, resilience, and patient care
Journal of Compassionate Health Care
2014
1:5
Received: 16 May 2014
Accepted: 19 August 2014
Published: 19 December 2014
A growing body of research indicates that high levels of stress in the healthcare field lead to negative outcomes—for medical providers, healthcare staff, and patients—and that a large part of the damage can be traced to the deleterious effects of stress on compassion and social connection [
1
]–[
6
]. Yet the question of how to increase compassion in a way that is practical given the tight schedules of medical professionals has not been answered.
Table 1
Changes in primary outcome measures pre- to post-manipulation
LKM

PAI

NEU

Measures

M

SE

M

SE

M

SE

Social Connectiona

Other-focused positive affect

.41***

.11

.26

.13

-.10

.12

Ratings of Strangers

.43***

.10

.16

.09

.17**

.06

Self-focusb

−1.10***

.27

-.50

.34

.16

.23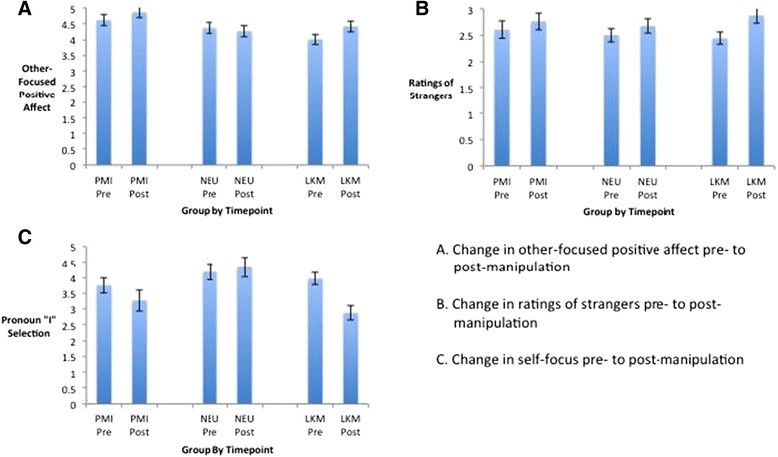 In this paper, we first discuss research on healthcare burnout and its impact on quality of care and compassion. We then discuss what is known about the benefits of compassion, including its potential to increase provider resilience and patient outcomes. Finally, we present a possible solution by considering the affective consequences of a brief compassion intervention that has the advantage of being easily implemented in a short duration of time and by novices.
(1)
Center for Compassion and Altruism Research and Education, School of Medicine, Stanford University, 1070 Arastradero Road, Palo Alto, 94304, CA, USA
(2)
California Institute of Technology, 1200 E California Blvd., Pasadena, 91125, CA, USA
(3)
Department of Psychology, Stanford University, 450 Serra Mall, Stanford, 94305, CA, USA
© Seppala et al.; licensee BioMed Central Ltd. 2014
This article is published under license to BioMed Central Ltd. This is an Open Access article distributed under the terms of the Creative Commons Attribution License (http://creativecommons.org/licenses/by/4.0), which permits unrestricted use, distribution, and reproduction in any medium, provided the original work is properly credited. The Creative Commons Public Domain Dedication waiver (http://creativecommons.org/publicdomain/zero/1.0/) applies to the data made available in this article, unless otherwise stated.